Vrijdagavond 3 november 2023
Aanvang 20.00 uur
Entree 10 euro inclusief de koffie en een drankje
Aanmelden info@cultuurschuur.nl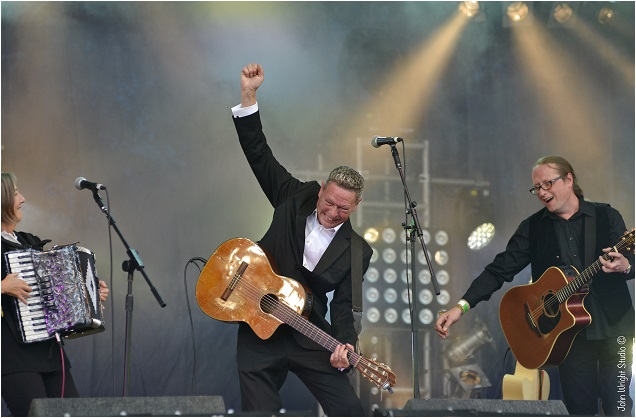 "Gerry Colvin is a writer of great substance who is able to give us something that has been largely missing in English Music for a long time. His subjects and characters are clearly defined, and his songs create strong images and stories which can make us both laugh and cry in the same breath. This man is unique and unforgettable. The songs are brilliant. He should be a household name. Go see him." Phil Beer, Show of Hands
 The hardest act to follow since the feeding of the 5,000!'  Keith Donnelly
 "Gerry Colvin is a remarkable talent. I am a fan."  Simon Nicol, Fairport Convention
 Now in his fourth decade in the music industry, Gerry Colvin has carved a niche for himself in the folk world and established himself as a folk pop legend.   In 1995 he co-founded the five-piece folk band Colvinquarmby. They released six critically acclaimed albums and were voted best band at the prestigious Fairport Convention Cropredy Festival in 2009. In 2010 they won the Hancock Award for 'Best Live Folk Act'.
The new Gerry Colvin Band were delighted to be invited to re-appear at Cropredy Festival 2017 to celebrate 50 years of Fairport Convention, where they received a standing ovation!!
His live concerts are unmissable.  A great performer and raconteur as well as a brilliant songwriter.
Gerry has released three self-penned solo albums with his own band, 'Jazz Tales of Country Folk' followed by 'Six of One Half a Dozen of the Other', featuring his original songs.  His latest CD 'Back and Forth' was launched at Cropredy in 2018.  All are available from www.gerrycolvin.com
As well as his new album "Back and Forth", Gerry's book 'The Rabbits of Zakynthos' is due to be published later this year.
Gerry is immensely proud to be Patron of both Banbury Folk Club, Oxfordshire www.banburyfolkclub.co.uk
and Welcombe Radio based in Stratford Upon Avon www.welcomberadio.co.uk